4th of February 2022
9:00 – 15:00
WHAT IS MEKKA?
Every year, the Guild of Mechanical Engineering at TLTH organizes a career fair, MEKKA, where the focus is on interaction, variation and commitment. A golden opportunity for companies and students to make invaluable contacts for the students' future in working life!
On the 5th of February, it's time for MEKKA's highlight – the virtual career fair! You're welcome to ask questions, get answers, and be inspired to find your future career choices and jobs! Are you eager to hear about your opportunities after graduation? Are you looking for a summer job, thesis, or a trainee program? Maybe you just want to mingle and hear about what the companies are actually working on? Then MEKKA is for you!
MEKKA 2022
This year the fair will be hosted physically again. Due to the current situation however, we have to follow the restrictions in place during the fair and changes might have to be made in case of a sudden change in restrictions. This might for example mean that people being able to visit the fair at the same time might be limited although we hope this will not be the case.
THIS IS WHAT WE'LL ENTERTAIN YOU WITH
Check out our Guide
:
How to Mekka?
(Link not yet uploaded)
Dante Neckmar
Project Manager
Mekka
Victoria Simonsson
Vice-Project Manager
Mekka
Gustav Hedberg
Business Manager
Mekka
Olle Ferrada
Business Manager
Mekka
Joel Toräng
Communications Manager
Mekka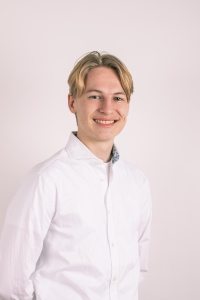 Oskar Cedergren
Logistics Manager
Mekka
Tekla Hultén
Design Manager
Mekka
William Crona
Event Manager
Mekka